Free Videos
Videos on this page are free SharePoint videos for you to watch. No registration required.
Be sure to check out our Entire Full Collection of SharePoint related video tutorials.
Access More Videos
If you like our free videos, here are some options to access more of our SharePoint videos:
Link to Free Videos Below
Looking for
SharePoint End User Training and Support
?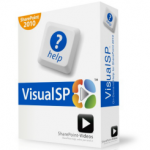 Check out VisualSP™ - the in-context, on-demand solution for training and supporting end users.
Sign up for our newsletter for SharePoint tips, tricks and news!

SharePoint 2013 Products and Technologies
SharePoint 2010 Products and Technologies
Site Collection Administrator Training

Level: Beginner
Title
Abstract
Duration
Create SharePoint Themes using PowerPoint 2010
PowerPoint 2010 can be used to create an Office theme. That theme then can be used to apply to a SharePoint site. It's a very easy and flexible way to produce themes for SharePoint Sites. Site Collection admin right is needed to add the theme to the site collection. Then a SharePoint Site Admin can apply the theme to any site within the site collection.
6:36
Checking Permissions for a User
An end user or an active directory group can be given a variety of permissions within a site collection. There is an easy way to check those permissions from the Site Permissions page.
7:07
SharePoint Designer 2010: No Code Solutions Training

Level: Intermediate
Title
Abstract
Duration
Introduction to SharePoint Designer 2010
SharePoint Designer 2010 is the premier tool to configure and customize SharePoint 2010. It has evolved from SharePoint Designer 2007 with a totally new look and feel to it. This video shows how you can navigate around the SPD 2010 environment.
4:24
Create Custom List Form Pages using SharePoint Designer
List Form pages let you view, edit and insert items in lists and libraries. The existing list form pages can be modified or new ones can be created easily using SharePoint Designer. You will see how to create a new Edit form page and then modify the page's formatting and insert your own logo in the form page.
8:36
SharePoint Designer 2010 Workflows: Business Process Automation Training

Level: Intermediate
Title
Abstract
Duration
Creating a Workflow on a List using SharePoint Designer 2010
SharePoint Designer can be used to create powerful workflows on your site. You can create workflows on a list or library, create reusable workflows or create site based workflows. This video focuses on creating list workflows. While showing you how to create a list workflow, the various capabilities of the workflow designer environment (such as steps, conditions, actions, parallel branching, moving actions around etc) are explained so you can take full advantage of this robust environment.
19:57
Create a Site Workflow and modify its form using InfoPath
One of the types of workflows you can create using SharePoint Designer 2010 is the site workflow. This type of workflow is not attached to a list or library but rather to a site itself. In this video, you will see how to accomplish that. In addition, you will also see how to modify the user interface form, that this workflow creates, using InfoPath 2010.
16:48
InfoPath 2010: Design Electronic Forms Training

Level: Intermediate
Title
Abstract
Duration
Introduction to InfoPath 2010
This video introduces Microsoft InfoPath 2010 and demonstrates the features to start creating your first form. The features highlighted in the video are: page layout templates, layout tables, branding the form using themes, and placing labels and controls on the page to accept user input.
9:07
Create a SharePoint List form using InfoPath
If you are running SharePoint Server 2010 Enterprise, you can use InfoPath 2010 to modify SharePoint list forms. You can take advantage of all that InfoPath has to offer (conditional formatting, validation, etc.) when customizing the list form. This video shows how you can modify the out of the box Tasks list in SharePoint using InfoPath.
8:33
SharePoint 2010 Branding and Design Training

Level: Advanced
Title
Abstract
Duration
Modifying the look and feel of site pages
Main content of your SharePoint 2010 site pages makes up for 80% of what your users are interacting with. Making that content fit in with the rest of the site branding is easier than you think. In this module, learn how you can apply branding to list views and generic page content by using SharePoint Designer 2010.
13:16
Using third party controls for site branding
In many cases, third party user controls will let your SharePoint site look and function better. In this module, see exactly what involved in integrating third parting user interface controls into your site and how those can be connected to the functionality available in your SharePoint site. We'll look at using custom navigation control for your SharePoint 2010 site navigation.
12:17
Dashboards using Reporting Services Training

Level: Advanced
Title
Abstract
Duration
Introduction to SQL Reporting Services 2008 R2 and Report Builder 3.0
In this video, you will get an overview of SQL Reporting Services 2008 R2 and the various Report Authoring tools that are available. You will learn how SharePoint 2010 can be integrated with Reporting Services. Also, you will be introduced to Report Builder 3.0, which is a free authoring tool, to create powerful no-code solutions, all managed and rendered using SharePoint 2010.
17:51
Gauges and Indicators
The gauges and indicator data region are graphical representations of a single value in your dataset. Learn how and when to use a gauge or an indicator.
13:35
Enterprise Metadata and Taxonomy Management Training

Level: Advanced
Title
Abstract
Duration
Overview of Taxonomies in SharePoint 2010
This video provides an overview of taxonomies in general, and the Term Store Management tool. In addition to introducing the Term Store, we discuss SharePoint 2010's value as an information management platform from the standpoint of both an end user and a taxonomy manager.
7:07
Planning Taxonomy implementation in SharePoint 2010
Knowing your audience is the best place to start any information management endeavor, and a taxonomy implementation in SharePoint 2010 is no exception. This video walks through some of the most applicable user analysis methods for SharePoint 2010 taxonomy implementation.
11:57
Project Management Training

Level: Advanced
Title
Abstract
Duration
Project Management in SharePoint – Introduction and Overview
In this overview video, the author demonstrates how SharePoint offers several list types that on their own are simple, powerful ways to track information. By connecting these lists together and adding sub-sites, you can build a central project management hub that changes the way you work. See the overall picture narrated and demonstrated from an end-user and project manager perspective. The best part is that all of this is created using the free SharePoint Foundation 2010 and SharePoint Designer 2010 products.
7:30
Project Task Tracking
This video walks you through the standard Project Tasks list, and demonstrates how to customize it with custom site columns to track planned vs actual dates and show them in a dynamic Gantt chart.
15:02
SharePoint 2007 Products and Technologies
SharePoint 2007 Training

Level: Beginner to Advanced
Title
Abstract
Duration
Introduction to SharePoint Server 2007
An overview of what is new in Microsoft Office SharePoint Server 2007 as opposed to the older version SharePoint Portal Server 2003
10:54
Introducing Document Management
Document Management is a robust feature in SharePoint. Learn the various capabilities that are offered out of the box by the document mangement features.
9:09
Installing SharePoint 2007
This video demonstrates the process of installing SharePoint (WSS 3.0 and MOSS 2007) as a single server install. Then it shows how to setup some of the global settings that need to be immediately configured after the install. The video also examines how to assign server roles in a SharePoint server farm.
11:00
Creating a SharePoint Site
SharePoint comes with multiple site templates. This video shows how to create a SharePoint site using those templates.
7:04
Webinar Recordings
We conduct webinars every few weeks on a variety of SharePoint and InfoPath topics. The recordings of these webinars are available below to be watched free of charge. Enjoy!
SharePoint Webinars

Level: Varies
Title
Abstract
Presenter
Webinar – SharePoint 2010 Search
SharePoint Search is one of the most Powerful features that SharePoint has to offer. However, an understanding of how to configure and efficiently use Search mechanisms to unlock hidden information still remains an art. This webinar brings together the top experts in the field of Search who routinely advise small to large organizations on how to be successful with their SharePoint Search based initiatives.
Joshua Noble, Robert Piddocke
Webinar – Strategies to drive SharePoint adoption in Your organization
This webinar brings together the top experts in the field who routinely advise small to large organizations on how to be successful with their SharePoint based initiatives. This event is a combination of them sharing their thoughts and strategies and also taking audience questions around this extremely important subject area.
Susan Hanley, Michal Pisarek, Ruven Gotz, Asif Rehmani
Webinar – Automate Business Processes using SharePoint Designer 2010 and InfoPath 2010
Demonstration of an end-to-end simple expense reporting process. This was a hands-on webinar, conducted in partnership with CloudShare, in which the attendees got a chance to build a no-code expense reporting application using InfoPath 2010 forms and SharePoint Designer 2010 workflows.
Asif Rehmani
Webinar – Tour SharePoint 2013 user interfaces
SharePoint 2013 brings with it a bold new look compared to the earlier versions. Want to know what has changed exactly? Watch this webinar! The 'Metro' look of sites, the introduction of 'Apps', an easier way to manage your documents, the radical new way to style your site and more are all discussed in this session.
Asif Rehmani
Webinar – Project Management using SharePoint 2010
This webinar focuses on building project management processes directly on any flavor of SharePoint 2010 (Foundation, Server or even SharePoint Online within Office 365).
Nearly every organization already uses SharePoint at some level for simple things like document management, but many times all of the other things SharePoint does really well go unused. This webinar shows how to leverage features like discussion boards, task lists, shared calendars, roll-up web parts and more to manage most or all of your projects in one place! We discuss ways for providing self-serve status updates that automatically roll-up to the summary pages per each project (and even across all of your projects).
Eric
Eaton

Webinar-Manage Projects with Project Server 2010
In today's project-centric work environment, the ability to coordinate multiple projects with distributed teams, and making high-level strategic decisions based upon consolidated project progress, risk and resource usage information is critical. Microsoft Project Server 2010 is an enterprise-wide project management platform designed to meet these challenges. In this session, you learn to optimize Project Server to manage enterprise projects.
Dux Raymond Sy

Webinar-Using SharePoint Designer 2010 in the Real World
This session provides real world use cases and guidance that covers when it
is safe to let your site administrators use SharePoint Designer 2010 (and also
when it's not safe). In addition, we will discuss the different level of
privileges that should be granted to different groups of people in your
organization.
Asif Rehmani

Webinar – User Interfaces of SharePoint 2010
SharePoint 2010 ships with a variety of functionality waiting to be
discovered. You can easily build your collaboration based solutions directly on
top of this platform without the need for any programming. You need just the
browser to create your robust solutions with lists, libraries and other site
components. But how do you know where to get started? This session shows the user interfaces of SharePoint 2010 and explains how easy it is to get started.
Asif Rehmani

Webinar – Make the Best Use of SharePoint Designer 2010
This webinar starts with an explanation of why you would want to use SharePoint Designer 2010 instead of the browser to create your site components. Then the presentation digs deeper into showing how you can create powerful workflows. Subsequently, the last thing demonstrated is how easy it is to fetch data from a database and show on a SharePoint page. Along the way, there were many good questions that attendees asked and the attempt was made to answer as many as possible in the allotted time.
Asif Rehmani

Webinar – Leveraging Business Connectivity Services
Business Connectivity Services allows you to both read from and write data
back to your external systems! BCS allows you to surface your external data in
SharePoint AND inside of Office applications, meaning your data is that much
more accessible! * One of the big stumbling blocks in getting started with the
BDC was the lack of tooling support from Microsoft. With BCS, both SharePoint
Designer 2010 and Visual Studio 2010 have first-class support for building
solutions with the BCS. What's even better, many common scenarios can be handled with just SharePoint Designer 2010, without needing a developer or Visual Studio.
Raymond Mitchell

Webinar – Augmenting SharePoint Designer Workflows with Visual Studio 2010
Generally the best story for creating custom workflows in SharePoint 2010 is
to stick with the declarative and most productive option: use SharePoint
Designer 2010. However there are situations when SharePoint Designer cannot
achieve some business requirements. One common example is when you need to implement some sort of a loop. In this session, you'll see what's involved in creating a custom activity (action) in Visual Studio 2010 and deploy it to SharePoint so it can be used in SharePoint Designer based workflows.
Andrew Connell

Webinar – Getting Started with SharePoint 2010 Team Sites – Best Practices
So you got your SharePoint 2010 Team Site… now what? How should you proceed to set it up? What should be the things to look out for and to not do? This session explores best practices on how to start up with your team site. Setting up your quick launch, top link bar, company/department logo, creating and setting up lists and libraries and more are discussed here. In addition, the last 20 minutes cover Q&A from attendees.
Asif Rehmani

Webinar – Creating Workflows with SharePoint Designer 2010, Visio 2010 and InfoPath 2010
Forms and Workflows are important for automating business processes.
Companies usually rely on programmers to create the forms and workflows using
code. Not anymore! With InfoPath 2010 and SharePoint Designer 2010, you can
create powerful data driven form composite solutions on your SharePoint sites.
InfoPath gives you the ability to pull data from databases and lists, and create
forms with data validation and conditional formatting. SharePoint Designer's
workflows let you then design powerful multi-step workflows centered around the form collected data, building upon the out-of-the-box reusable workflows and even import workflow designs from Visio! In this presentation, you will see how these tools come together to design workflows and route forms across your organization for task assignment and approval.
Asif Rehmani
Webinar – Introduction
to SharePoint Designer 2010
SharePoint Designer 2010, which is a free application, is "The Preferred"
tool to design powerful no-code solutions and applications in SharePoint 2010.
In this video, you will get a broad overview of the capabilities of the tool,
from site customizations such as modifying Site Metadata, managing Site
Security, or creating Site Content, to building List or Site based Workflows and
connecting to a variety of Data Sources. You will also learn about the new user
experience components such as the Ribbon and Summary Pages in SharePoint
Designer 2010.
Asif Rehmani

Webinar – Effectively Leveraging Project 2010 with SharePoint 2010 for Project Management Success
Microsoft Project is a project management tool widely used by project
managers today. Its' ability to support project managers to define a schedule,
assign resources to tasks and track project status has been instrumental in
contributing to project success. However, it can be a challenge for a project
manager to share project information and collaborate with the project team with
Microsoft Project alone. Microsoft SharePoint 2010 can complement Microsoft
Project 2010 and address this gap.
Dux Raymond Sy

Webinar – How and where to deploy InfoPath 2010 forms
Microsoft InfoPath 2010 and Forms Server 2010 come together to provide a powerful platform for electronic form generation. It's crucial to your business to know how to use InfoPath most effectively. InfoPath forms can exist independently or they can be hosted on a server platform – like SharePoint. This session focuses on the various deployment options for the forms and provides guidance to help decide on the best deployment option for Your need!
Asif Rehmani

Webinar – Best Practices and Limitations of creating Workflows using Visio and SharePoint Designer
SharePoint 2010 comes with the ability for creating workflows without
programming using Visio 2010 and SharePoint Designer 2010. This is a Giant step towards being able to easily visualize and work with your workflows using these products. So what can and can't you do using these products? What are the best practices when working with them? This session covers these questions. Also, what if you need to be able to do more with workflows without programming and these products are not enough? We look at additional products in the market as well and how they all stack up.
Asif Rehmani

Webinar – Modifying SharePoint List Forms using SharePoint Designer 2010 and InfoPath 2010
To display, edit and insert data into SharePoint lists, you need to interact
with the SharePoint list forms. The out-of-the-box SharePoint list forms are not
always sufficient. Sometimes you need to modify the existing ones or better yet,
create new ones. SharePoint Designer has been a great tool to customize
SharePoint list forms for a long time. Now in SharePoint 2010, you can use
InfoPath 2010 to customize the forms as well. What's the difference? Why should you use one tool over the other for this purpose? This webinar shows you how each functionality works and explore the pros and cons of using each method to customize your SharePoint list forms.
Asif Rehmani

Webinar – Office 365: What you need to know!
Office 365 is the way to provide messaging, collaboration, web conferencing,
document sharing and more to your organization – large and small. Simply put,
it's SharePoint 2010 in the cloud. Office 365 went Live on June 28th, 2011. This
webinar focused on providing information you need to be successful making
decisions regarding Office 365 . The functionality and administrative
capabilities of Office 365 were demonstrated.
Mark Kashman

Webinar-SharePoint Branding and User Interface Design
Compelling and user friendly interface of your SharePoint solution is one of
the key factors in successful adoption of your intranet or internet site. This
webinar gives you a solid understanding of how you can improve user interface
and brand your site with visual elements you have seen online or have been
provided by a professional design team.
Yaroslav
Pentsarskyy

Webinar-Q&A Panel with SharePoint Experts
Panel of SharePoint Experts: Richard Wixom Russell Wright Eric Eaton Asif
Rehmani In this webinar, demonstrations and discussions were conducted by the panelists. Some of the topics talked about in the panel: SharePoint Calendar sharing SharePoint Designer in Production Data View web part Using PowerShell to list all SharePoint sites and subsites Printing of SharePoint list data Downloading more than one file at a time without a 3rd party add-on Checking permissions for a user InfoPath 2010 resources and more.
Richard Wixom,
Russell Wright, Eric
Eaton, Asif Rehmani

Webinar – Smart Storage for SharePoint
Today's business users demand better, faster collaboration networks and Microsoft SharePoint is poised to fit their needs. But many SharePoint implementations disappoint over time due to inefficient storage and insufficient data availability. Don't let this happen! This webinar shows you the secrets of choosing and growing an appropriate storage platform for your SharePoint environment to gain the most return on your investment. We examine SharePoint's unique storage requirements and discuss how to scale your disk hardware to reduce contention, throttle bandwidth usage, improve data availability and establish redundant data for archiving or disaster recovery.
Wendy Henry

Webinar – SharePoint Designer Data Views
SharePoint Designer 2007 can be used to integrate data from a variety of sources into a single integrated solution. This session demonstrates how the Data View web part in SharePoint Designer can be used for the task of retrieving data from SharePoint Lists. Also shown is how data in multiple lists can be connected to produce a unified view of related information. That's not all, also demonstrated is how you can make this view editable to commit any data changes back to the data source… All without a single line of code!
Asif Rehmani